The last Friday in October is known as Frankenstein Friday. It is a celebration of Mary Shelley, Dr. Frankenstein, and his Monster. The origin story of Frankenstein is one of my favorites and it starts in Indonesia. Mount Tambora, a volcano in Indonesia, erupted leaving lasting effects on the weather. 1816 was considered "The Year Without a Summer," or "eighteen hundred and froze to death." (
Did Climate Inspire The Birth Of A Monster?
by
NELL GREENFIELDBOYCE
). This is the Summer that Mary Shelley, her husband Percy Bysshe Shelley, and Mary's stepsister, Claire Clairmont went to Geneva to visit their friend Lord Byron. Lord Byron's physician John Polidori was also in attendance. The weather leaves the group trapped indoors. Looking for ways to entertain themselves, Byron challenged everyone to create a horror story.
""I busied myself to think of a story," Mary would write years later in the preface to one of the most famous horror novels of all time. "One which would speak to the mysterious fears of our nature, and awaken thrilling horror—one to make the reader dread to look round, to curdle the blood, and quicken the beatings of the heart." Unfortunately, instead she "felt that blank incapability of invention which is the greatest misery of authorship, when dull Nothing replies to our anxious invocations." -Mary Shelley (
The Summer Storm That Inspired Frankenstein and Dracula
by Erin Zaleski)
A conversation between Percy Shelley and Lord Byron on science and the possibility of reanimating corpses, settled into Mary's subconscious causing nightmarish visions as she tried to sleep. It was from these visions that Frankenstein was born.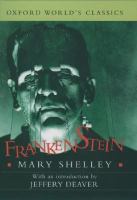 There is no greater novel and no more well-known monster than Mary Shelley's Frankenstein.
On a stormy night two hundred years ago, a young woman sat in a dark house and dreamed of her life as a writer. She longed to follow the path her own mother, Mary Wollstonecraft, had started down, but young Mary Shelley had yet to be inspired. As the night wore on, Mary grew more anxious. The next day was the deadline that her friend, the poet Lord Byron, had set for writing the best ghost story. After much talk of science and the secrets of life, Mary had gone to bed exhausted and frustrated that nothing she could think of was scary enough. But as she drifted off to sleep, she dreamed of a man that was not a man. He was a monster.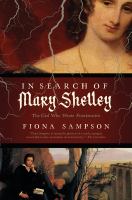 Coinciding with the 200th anniversary of the publication of Frankenstein in 1818, a prize-winning poet delivers a major new biography of Mary Shelley--as she has never been seen before.
The events of Mary Shelley's Frankenstein unfold from the perspective of Elizabeth Lavenza, who is adopted as a child by the Frankensteins as a companion for their volatile son Victor.
Frankenstein is the scariest of all the monsters in Miss Devel's castle until one night when he loses his head.
When his twin brother falls ill in the family's chateau in the independent republic of Geneva in the eighteenth century, sixteen-year-old Victor Frankenstein embarks on a dangerous and uncertain quest to create the forbidden Elixir of Life described in an ancient text in the family's secret Biblioteka Obscura.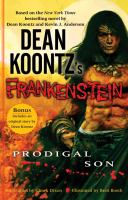 In the nineteenth century, Dr. Victor Frankenstein brought his notorious creation to life, but a horrible turn of events forced him to abandon it and slip away from the public eye. Two centuries later, a serial killer is on the loose in New Orleans, gruesomely salvaging body parts from each of his victims, as if trying to assemble a perfect human being.
Detective Carson O'Connor is cool, cynical, and every bit as tough as she looks. Her partner, Michael Maddison, would back her up all the way to Hell itself–and that just maybe where their new case leads. For as they investigate the strange killings, O'Connor and Madison find themselves drawn into a weird underworld of deception and secrets where a man named Victor Helios has created an entire race of perfectly engineered people who are meant to take humankind's place one day. But something is happening to some of Helios's creations, and it may be that this bizarre serial killer is the least of the detectives' worries.
From the masterly pen ofNew York Timesbestselling author Dean Koontz–and featuring an adaptation by legendary comic book writer Chuck Dixon and gorgeous illustrations by acclaimed artist Brett Booth–Dean Koontz's Frankenstein: Prodigal Sonis a story filled with fast-paced action, gripping horror, and thrilling adventure.
"When science prodigy Tori Frankenstein accidentally kills a teen boy in a midnight car accident, there's only one thing for her to do--use her science project to bring him back to life"-- Provided by publisher.
Hollow Pines, Texas. When science prodigy Tori Frankenstein accidentally kills a teen boy in a midnight car accident, there's only one thing for her to do-- use her science project to bring him back to life. She names him Adam because he has no memory of his name-- in fact, he has no memory at all. She brings him to school to hide him in plain sight. But when someone starts killing boys-- and removing parts-- is Adam to blame?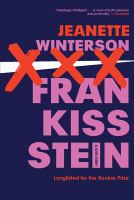 "Lake Geneva, 1816. Nineteen-year-old Mary Shelley is inspired to write a story about a scientist who creates a new life-form. In Brexit Britain, a young transgender doctor called Ry is falling in love with Victor Stein, a celebrated professor leading the public debate around AI and carrying out some experiments of his own in a vast underground network of tunnels. Meanwhile, Ron Lord, just divorced and living with his mom again, is set to make his fortune launching a new generation of sex dolls for lonely men everywhere. Across the Atlantic, in Phoenix, Arizona, a cryogenics facility houses dozens of bodies of men and women who are medically and legally dead ... but waiting to return to life. What will happen when homo sapiens are no longer the smartest being on the planet? In fiercely intelligent prose, Jeanette Winterson shows us how much closer we are to that future than we realize. Funny and furious, bold and clear-sighted, Frankissstein is a love story about life itself"-- Provided by publisher.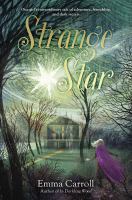 From the critically acclaimed author of "In Darkling Wood" comes a spine-tingling novel inspired by the events of one stormy night in 1816 Switzerland, when Lord Byron and friends gathered to tell ghost stories--a night that resulted in the creation of Mary Shelley's novel, "Frankenstein."