August 9th is National Book Lover's Day. It may be an unofficial holiday, but it's one for the bibliophiles. It's a day, to set aside social media and just involve yourself in a book. A day to worm yourself inside a story and settle in for an adventure.
"Cram your head with characters and stories. Abuse your library privileges. Never stop looking at the world, and never stop reading to find out what sense other people have made of it. If people give you a hard time and tell you to get your nose out of a book, tell them you're working. Tell them it's research. Tell them to pipe down and leave you alone."
― Jennifer Weiner
To celebrate the staff at Dixon Public Library would like to share with you some of the books that we love.
Brigette
At the end of the Second World War, Cyril Conroy combines luck and a single canny investment to begin an enormous real estate empire, propelling his family from poverty to enormous wealth. His first order of business is to buy the Dutch House, a lavish estate in the suburbs outside of Philadelphia. Meant as a surprise for his wife, the house sets in motion the undoing of everyone he loves. Cyril's son Danny and his older sister Maeve are exiled from the house where they grew up by their stepmother. The two wealthy siblings are thrown back into the poverty their parents had escaped from and find that all they have to count on is one another.
Quinn
Signing up to train military pilots in Hawaii when World War II breaks out in Europe, Audrey Coltrain joins the Women Airforce Service Pilots program after the bombing of Pearl Harbor and bonds with her fellow pilots to find hope and strength in the face of war.
Kathleen
A #1 New York Times Bestseller, A Publishers Weekly, School Library Journal, Kirkus, and Booklist Best of Children's Books 2012 -- August Pullman was born with a facial deformity that, up until now, prevented him from going to a mainstream school. Starting 5th grade at Beecher Prep, he wants nothing more than to be treated as an ordinary kid-- but his classmates can't get past Auggie's extraordinary face. Wonder begins from Auggie's point of view, but soon many perspectives converge in a portrait of one community's struggle with empathy, compassion, and acceptance.
Emily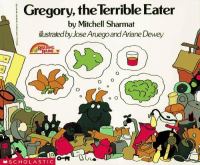 A very picky eater, Gregory the goat refuses the usual goat diet staples of shoes and tin cans in favor of fruits, vegetables, eggs, and orange juice.
Antony
In a riveting, suspenseful narrative with haunting echoes for our own time, Adam Hochschild brings WWI to life as never before, focusing on the long-ignored moral drama of its critics, alongside its generals and heroes. A brilliant new history of the Great War that raises the eternal question of why such a terrible war was ever fought.
Hannah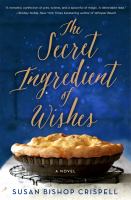 "26-year-old Rachel Monroe has spent her whole life trying to keep a very unusual secret: she can make wishes come true. And sometimes the consequences are disastrous. So when Rachel accidentally grants an outlandish wish for the first time in years, she decides it's time to leave her hometown--and her past--behind for good. Rachel isn't on the road long before she runs out of gas in a town that's not on her map: Nowhere, North Carolina--also known as the town of "Lost and Found." In Nowhere, Rachel is taken in by a spit-fire old woman, Catch, who possesses a strange gift of her own: she can bind secrets by baking them into pies. Rachel also meets Catch's neighbor, Ashe, a Southern gentleman with a complicated past, who makes her want to believe in happily-ever-after for the first time in her life. As she settles into the small town, Rachel hopes her own secrets will stay hidden, but wishes start piling up everywhere Rachel goes. When the consequences threaten to ruin everything she's begun to build in Nowhere, Rachel must come to terms with who she is and what she can do, or risk losing the people she's starting to love--and her chance at happiness--all over again."--Amazon.com.
Shelly
Heather Webber's Midnight at the Blackbird Cafe is a captivating blend of magical realism, heartwarming romance, and small-town Southern charm.
Nestled in the mountain shadows of Alabama lies the little town of Wicklow. It is here that Anna Kate has returned to bury her beloved Granny Zee, owner of the Blackbird Cafe.
It was supposed to be a quick trip to close the caf and settle her grandmother's estate, but despite her best intentions to avoid forming ties or even getting to know her father's side of the family, Anna Kate finds herself inexplicably drawn to the quirky Southern town her mother ran away from so many years ago, and the mysterious blackbird pie everybody can't stop talking about.
As the truth about her past slowly becomes clear, Anna Kate will need to decide if this lone blackbird will finally be able to take her broken wings and fly
Jenni
"A novel set in 1953 Tehran, against the backdrop of the Iranian Coup, about a young couple in love who are separated on the eve of their marriage, and who are reunited sixty years later, after having moved on to live independent lives in America, to discover the truth about what happened on that fateful day in the town square"-- Provided by publisher.